As the Pearl of Africa, Uganda has some of the most amazing natural beauty and cultural wonders to be found in our continent. But did you know that a number of our treasures are actually recognized as internationally important?
That's right. Uganda has a number of UNESCO World Heritage Sites. UNESCO, which stands for the United Nations Educational, Scientific and Cultural Organization, is dedicated to "fostering peaceful communication between nations and preserving cherished heritage sites around the world."
Their World Heritage List includes sites famed for their cultural significance, natural beauty, or both, often combining the two with the values and histories of the countries they're found within. 
Today, we're revealing the three UNESCO sites found within Uganda, and why you should book your trip to visit them!
Uganda's Three UNESCO World Heritage Sites
Uganda has three UNESCO World Heritage Sites: Bwindi Impenetrable Forest National Park, Rwenzori Mountains National Park, and Kasubi Tombs in Kampala. Below we have unique details on each and why they were selected as part of UNESCO's World Heritage List.
Bwindi Impenetrable Forest National Park
Bwindi Park is located in south western Uganda. Perhaps most famous as the home to the endangered mountain gorilla, Bwindi Park is also home to more than 160 species of trees, over 100 species of ferns, and many birds and butterflies, too. 
Bwindi Park is included on the UNESCO World Heritage List for the following criteria:
Criterion (vii)

: As a key site for biodiversity on the continent, Bwindi can be considered as a superlative natural phenomenon.

Criterion (x)

: Due to its diverse habitats ranging from 1,160 to 2,706 m in altitude, Bwindi is the most important area in Uganda for species due to an exceptional diversity that includes many Albertine Rift endemics. It's also home to almost half of the population of the critically endangered mountain gorilla. 
You can read more about Bwindi Impenetrable National Park here, and about UNESCO's breakdown of Bwindi Impenetrable Forest National Park here.
Rwenzori Mountains National Park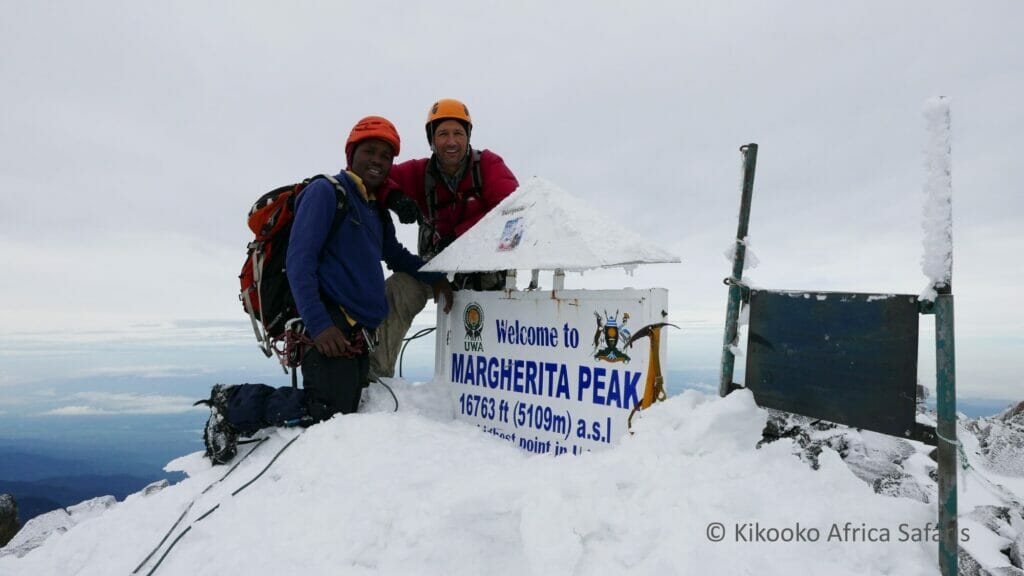 Covering nearly 100,00 hectares of western Uganda, the Rwenzori Mountains National Park also has Africa's third highest peak (Mount Margherita: 5,109 m). Surprising to many visitors, there are not just waterfalls and lakes but glaciers, too. 
Rwenzori Mountains National Park has been included on the UNESCO World Heritage List for the following criteria:
Criterion (vii)

: The Rwenzoris are the legendary "Mountains of the moon", a reflection of the mist-shrouded mountains of this rugged massif that tower almost 4,000 m above the Albertine Rift Valley, offering a combination of snow-capped peaks, glaciers, valleys, rivers, waterfalls, clear blue lakes, and unique flora contributes to the area's exceptional natural beauty.

Criterion (x)

: Because of their altitudinal range, and the nearly constant temperatures, humidity and high insolation, the mountains support the richest montane flora in Africa. In terms of fauna, the Rwenzoris have been recognised as an Important Bird Area with 217 bird species recorded to date. They're also home to threatened species such as the African forest elephant, eastern chimpanzee and l'Hoest's monkey. 
You can read more about visiting the Rwenzori Mountains National Perk here, and UNESCO's breakdown of Rwenzori Mountains National Park here
Kasubi Tombs in Kampala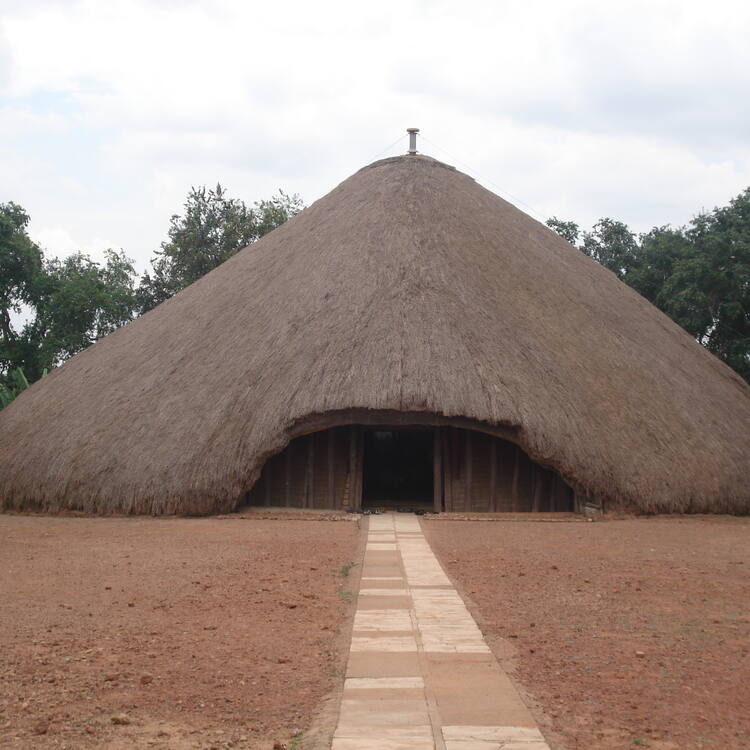 Occupying a site just outside of Uganda's capital, Kampala, the Tombs of Buganda Kings at Kasubi is the former palace of the Kabakas of Buganda. It was first built in 1882 and converted into the royal burial ground in 1884.
At this point, there are four royal tombs that now lie within the Muzibu Azaala Mpanga. It is a major example of an architectural achievement in organic materials, principally wood, thatch, reed, wattle and daub. The site's main significance lies, however, in its intangible values of belief, spirituality, continuity and identity.
The Kasubi Tombs in Kampala have been included on the UNESCO World Heritage List for the following criteria:
Criterion (i)

: The site is a masterpiece of human creativity both in its conception and its execution.

Criterion (iii)

: It bears witness to the living cultural traditions of the Baganda.

Criterion (iv)

: The organization of the Kasubi Tombs site shares the best example of a Baganda palace/architectural ensemble. Having been built in the fine traditions of Ganda architecture and palace design, the Kasubi Tombs reflect technical achievements developed over centuries.

Criterion (vi)

: Both the built and natural elements of the Kasubi Tombs site contain historical, traditional, and spiritual values, making it a major spiritual center for the Baganda and the most active religious place in the kingdom.
You can read more about UNESCO's breakdown of the Kasubi Tombs here.
5 Reasons To Visit UNESCO Sites In Uganda
A Great Way To Find Hidden Gems
While some UNESCO Sites are a part of a country's well-trodden tourist trails, that's not the main reason they're chosen. These landmarks may include sites you've never heard of before, which makes visiting the UNESCO sites in Uganda a powerful way to uncover more of Uganda's history and nature. 
A Way To Transport Yourself Back In Time
Some UNESCO sites from around the world include rock carvings, cave art, and old salt mines. In a sense, these sites are snapshots of different periods of our time on this planet, and the same is true for Uganda. From the Kasubi Tombs from the 1800s back to national forests that have been important to native populations for centuries, these are a great way to see sites that have shaped our country.
An Important Way To Support Preservation 
To make sure that sites as beautiful and significant as these UNESCO sites in Uganda can be enjoyed by future generations, we have to work together. By visiting these sites, we can help to provide financial support that protects them from natural disasters, political conflict, and more.
A Chance To See Some Of The World's Most Incredible Sights
A UNESCO designation is a special one, indeed, as it places the ruins, the natural landscape, and the cultural features on a list whose members span the world. Though the UNESCO sites in Uganda are unique to the Pearl of Africa, their inclusion on the list lets you know you're participating in something global. 
A Unique Way To Learn About This Part Of The World
Traveling is a chance to experience a culture, its people, and its place firsthand. UNESCO is special in that it involves local stakeholders in the preservation of the selected site, which gives you as the traveler a chance to contribute directly to the communities.
Visit Uganda's UNESCO Sites With Kikooko Africa Safaris
Ready to plan a trip to see Uganda's unique UNESCO sites? Want to hike to the top of the Rwenzori Mountains? Or visit the mountain gorillas in Bwindi? 
At Kikooko Africa Safaris, we'd be honored to help. As Uganda safari specialists since 2013, our experienced staff is here to assist with your tour. Reach out today to get started!